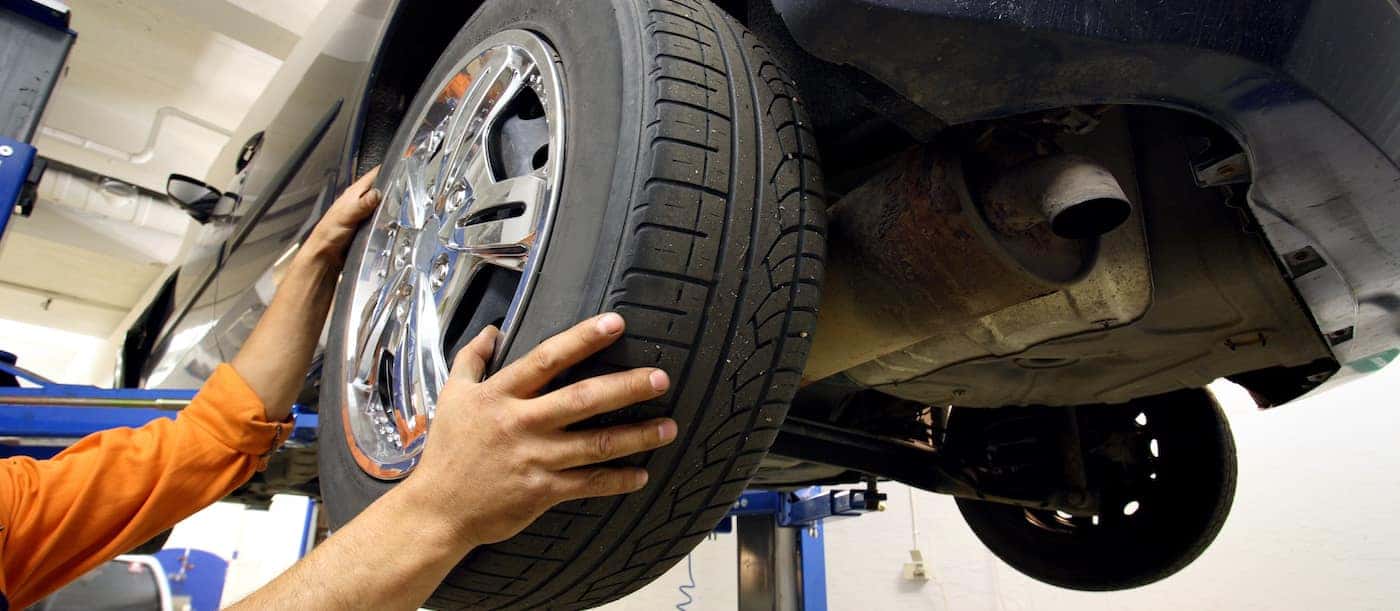 If you learn how to rotate tires at home, you can save time and money on a service your vehicle needs. It's easier than you think. Simply get the right tools together and follow our helpful guide created by the MINI of Warwick service team. If you have any questions in the meantime about the recommended service frequency or rotation pattern for your vehicle, be sure to contact our team!
Learn the Tire Rotation Patterns
While you can find these patterns in your vehicle's owner's manual, it can sometimes be difficult to locate. When learning how to do a tire rotation, you'll want to pay attention to your vehicle's drivetrain. Generally you'll use of one of the following rotation patterns:
Front-wheel drive vehicles have their front tires moved directly from front to back, without any change of sides. The back tires will swap sides as they move to the front.
The exact opposite is true with rear-wheel drive vehicles. Keep the rear tires on their respective sides when you move them up front, and swap the sides of the front tires when you send them back.
If you have a model with all-wheel drive, an X-shaped pattern is likely to provide you with the best results. Swap the sides of both sets of tires as you move them.
Typically, the tire rotation interval is between 5,000 to 7,500 miles. If you have an all-wheel drive model, you may want to have your tires rotated more frequently. Keep in mind that the way you drive through Cranston, RI could also have an impact on your rotation schedule. Not sure when to come in? Contact our team. We're more than happy to help.
How to Rotate Tires: Step-by-Step
Before you get started, make sure you have the tools you need to complete the job correctly. You're going to need a complete set of jack stands to lift your vehicle. If you don't have any or want to know where to find some, our parts center has them available at an affordable price. Once you have what you need, follow these steps to rotate your tires:
Make sure that the vehicle is parked on a flat surface, and engage the parking brake.
Loosen the lug nuts on all four wheels, but don't remove the bolts just yet.
Elevate each wheel one by one, and place the jack stand beneath it, securely.
Once all four wheels are up in the air, you'll want to finish removing the lug nuts, remove all the tires, and make sure they're filled to the proper air pressure.
Move each tire to its new location, and place them back onto the vehicle. Tighten the lug nuts as much as you can by hand.
Once the vehicle is safely back on the ground, you can use the lug wrench to finish retightening the bolts! Work in a star pattern to ensure an even finish.
Schedule a Tire Rotation in Warwick
Interested in learning more car care tips from us such as what kind of tires your MINI needs? Our service center has plenty of guides to help. If you'd rather have the professionals take a look for you, don't hesitate to schedule an appointment. We also offer service specials to help drivers save more.
Learn More with MINI of Warwick
Ready to upgrade your Providence, RI-area commute behind the wheel of an exciting MINI Cooper crossover SUV? There are six unique 2023 MINI Cooper Countryman trim levels to choose from, each offering a wide range of features and the exhilarating performance that has become a hallmark of the MINI brand. In this guide from MINI of Warwick, we'll…

The 2023 MINI Cooper is not only stylish and fun to drive, but also comes loaded with features that will keep you connected and entertained on Cranston, RI-area roads and beyond. In this guide from MINI of Warwick, we'll take a closer look at the MINI Cooper 2 Door interior and the MINI Cooper 4 Door interior,…

The MINI Cooper hardtop 2-door is the epitome of big things coming in small packages. Despite this model's compact exterior, it sports a surprising amount of interior space for your Providence, RI commute. Check out the MINI Cooper 2-door interior features with MINI of Warwick, and get a look inside this compact vehicle for yourself when you…